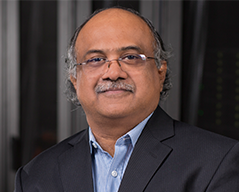 Jagannath Rao
Sr. Vice President, Network & Customer Operations
Responsible for India Operations
Oversees Network and Customer Operations
Over 26 years industry experience
Recognized high tech company leader and innovator
In his role as Sr. Vice President, Network & Customer Operations at Infinite Convergence, Jagannath Rao is responsible for Network and Customer Operations. Jagan also heads the India Operations for Infinite Convergence Solutions. Jagan brings 26 years of experience in the industry in Global R&D, Corporate business leadership and running Startup Ventures.
Jagan joins Infinite from Headstart Ventures LLP and Grow-Z, which he founded in India to fund early stage ventures and commercialize mobile products. Jagan gained significant mobile technology experience leading several product groups at Motorola for over 15 years. During his career, he has worked in various fields including radars, covert communication, soft radios, networking protocols, video conferencing, multimedia, VoIP, IMS and Broadband Internet. At his last leadership position at Motorola, he led a strong global product team of 350 people working on mobile devices and their associated mobile ecosystem with revenues exceeding $250 million.
Jagan holds a Bachelor of Science degree in Electronic Engineering and a Masters in Telecommunication and Software Engineering from Illinois Institute of Technology, Chicago. He has published 12 papers in International journals and has been a speaker at several industry conferences and forums including IEE UK, IEEE and ITU, Geneva. His research interests include nanotechnology, hybrid vehicles and B4G wireless networks.