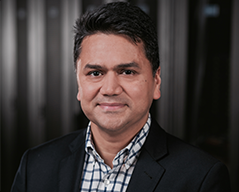 Harsh Mamgain
Vice President, Product Management
More than 15 years of business and finance experience
Proven track record leading cross-functional teams
Expert in product and marketing strategy
Veteran growth-company executive
In his role as Vice President of Product Management, Harsh Mamgain is responsible for driving the product & marketing strategy, product portfolio & program management, and building & fostering strategic alliances for Infinite Convergence Solutions' world-class mobility & messaging products and services.
Harsh brings more than 15 years of strong business and finance experience in building and growing technology start-ups and a proven track record in diverse leadership roles including product management, marketing, business strategy and finance. Prior to joining Infinite Convergence, Harsh was the Director for finance and business operations at Infinite Computers Solutions where he was instrumental in two product technology and business line acquisitions from the world's largest telecom OEM vendors, Alcatel-Lucent and Motorola. Prior to this, in his multiple roles at Comnet International, a technology start-up, Harsh's key accomplishments include M&A diligence for various product acquisitions & divestures, managing product/project partnerships (AT&T, Alcatel-Lucent, Tellabs, Oracle) and delivering on business goals by leading cross-functional teams and projects in a fast paced environment through strategic focus and solid execution.
Harsh holds a MBA degree from Northwestern University's Kellogg School of Management and a Bachelor of Commerce (Honors) degree in Commerce from Delhi University.