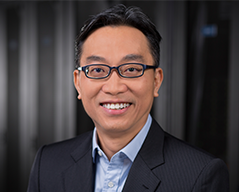 Chee Leng Loy
Regional Vice President, Asia Pacific and Middle East (APME)
Responsible for Asia Pacific and Middle East (APME)
Leads regional sales, marketing and operations
Telecom industry veteran with over 25 years experience
Formerly at iPass, British Telecom Asia and KPN (Royal Dutch Telecom) Asia
As Infinite Convergence Solutions' Vice President for Asia Pacific and Middle East (APME), Loy oversees sales, marketing and operations for the company across the region.
Loy brings more than 25 years of telecom industry sales, business development and operating experience throughout the APME region. Prior to Infinite, Loy was managing director of Asia and Japan for iPass (NASDAQ: IPAS), a mobility services provider to both enterprises and telecommunications carriers. At iPass, Loy led regional teams in growing revenues through both the direct and indirect channels. Before joining iPass, Loy was project and alliance director for British Telecom Asia, responsible for managing BT Asia's investments in several Asian-based wireless telecom operators. He also held senior business development positions with KPN (Royal Dutch Telecom) Asia where he was instrumental in sourcing and closing KPN's investment in WiproNet. Prior to KPN Asia, Loy was the regional director for a Washington DC based wireless telecom consulting firm (The Strategis Group), responsible for growing the firm's consulting and publication sales activities with APME telecom operators.
Loy received his Bachelor of Science from the University of London, and a Master of Science in Economics and Finance from the University of Warwick. Loy has also attended the general management program at INSEAD in Fontainebleau, France.